INYE Yoga is stronger with members that support the studio, at times when we flourish with various interesting workshops and classes, and also shaken during this time of rapid change. As new branches grown out from the trunk, roots found new earth, INYE wants to thank its members that continued their membership to keep the studio afloat. Here are how we celebrate our members:
VIRTUAL CLASS LIBRARY:
Recordings of our 80+ virtual classes (and growing!) have been edited into full length videos, so you can practice with us literally at any time!
SPECIAL WORKSHOPS:
Specialty workshops (coming up: "Ayurveda Nutrition - You Can Heal Yourself", "Guide to Sun Salutation", "Yoga Philosophy") will be available to deepen your study.
​
​
Here is how a Member can access our Virtual Library via MindBody (through desktop platform):
​
1) Sign in to your Mindbody Account. You can access it through the MEMBER BONUS -> MINDBODY LOG IN. Go to the Online Store and choose "Media" in the selection (Visible only to a Membership holder). Purchase the Media Access (Member only) at $0.00.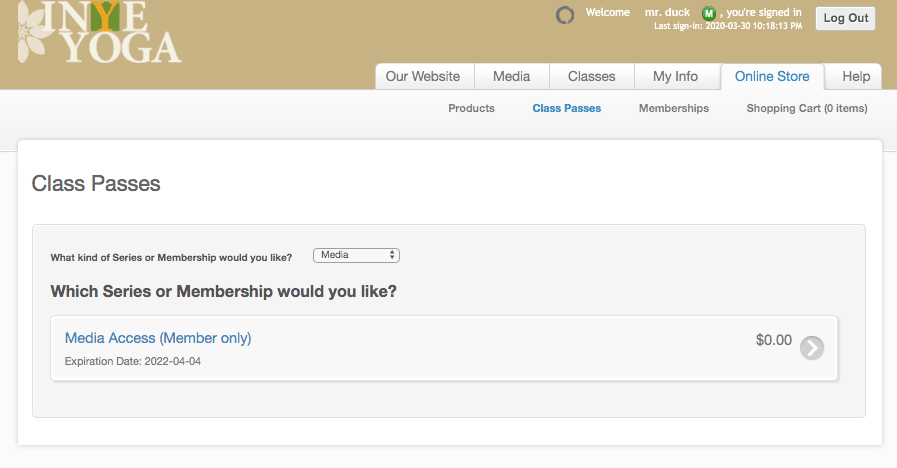 2) Once the Pricing Option has been purchased and confirmed, click on the "Media" tab, and see all the available classes. The list will update frequently.
3) Click on the desired class, and a new window will pop out, with the class ready to go! You can also view & navigate all available classes within the media player.